Fleet decision makers have their work cut out. The diesel debate, higher taxation, Clean Air Zones, BIK surcharges. The list goes on. But with these industry changes comes exciting innovation in the way we travel.
With so many factors to consider, from ever-changing legislation and taxes, to across-the-board improvements in automotive technology, making the right decision is becoming increasingly complex. But with some simple considerations and pertinent questions (plus some help from us), navigating the shifting fleet landscape can be straightforward.
Choices, choices
The breadth of choices, each with its pros and cons, can make it hard to reach the right decision. Suitability is key, and it's not just a simple case of shoehorning drivers into certain fuel types. As our recent PHEV trial shows, driver profiles and journey types are crucial when deciding between petrol, diesel or alternative fuels (or a mixture of all three).
But how do you measure and understand fuel type suitability? A Total Cost of Ownership (TCO) analysis is an excellent place to start. Rather than dealing with impacting factors one by one, TCO offers a more holistic approach to assessing fleet efficiency. Many factors contribute, such as contract hire rental, maintenance, irrecoverable VAT, insurance and taxation, to name a few. This big picture perspective empowers fleet managers to make decisions with greater confidence.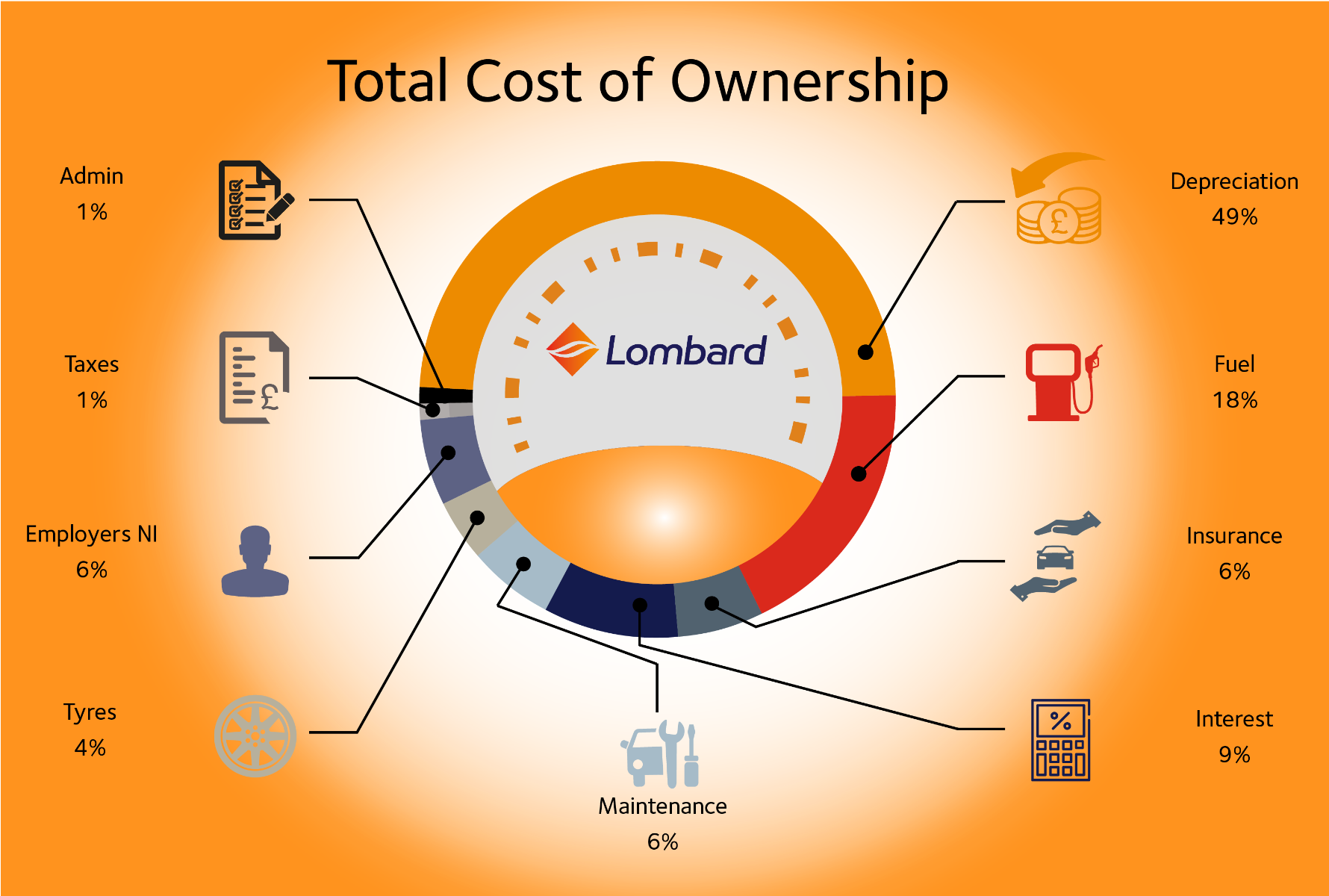 (Image demonstrates a typical % cost breakdown and is for illustrative purposes only)
Reaching breakpoint
Our consultancy services team has recently completed analysis that shows the breakpoint between petrol and diesel (i.e. the point at which diesel starts to become more cost-effective from a TCO perceptive) has risen significantly in the last 12 months (from 14,000mpa to 20,000+mpa). A shift indicative of how, perhaps choosing a petrol model over a diesel can be more efficient.
TCO in action
To further investigate this trend, our consultancy services team made several different car comparisons. And the results were equally surprising. For example, by switching from the diesel Vauxhall Insignia to a petrol BMW 3 Series, the whole life cost of the vehicle to the business came out lower. Not only that, but their drivers will see a reduction in the amount of BIK they pay if they switch to the petrol BMW.

(based on contracted 80,000 miles over 48 months)
The impact of the 4% surcharge on diesel may mean that a move away from Diesel to petrol or AFV is more cost effective for the employer from a TCO perspective. The benefits are easy to appreciate:
In some case, drivers can upgrade their choice of car, with little or no extra cost to the fleet from a TCO perspective
Businesses can boost recruitment and retention with a cost-effective, attractive perk package
Reduced BIK for the driver
Mitigating the risk against any future diesel levies and the forthcoming Clean Air Zones
Overall cost savings for the fleet
Want to carry out your own TCO analysis?
Our consultancy services team regularly perform independent TCO analysis to help our customers make informed decisions about the future of their fleet and improve efficiency. If your fleet would benefit from their expertise, please get in touch on the details below or email: [email protected]
#GetFutureReady